"What can you do against the lunatic who is more intelligent than yourself, who gives your arguments a fair hearing and then simply persists in his lunacy?"
George Orwell
Here are three recent excerpts that painfully paint a picture of widely different understandings of the market. First excerpt is from Dick Satran, Reuters, "Stocks View: Wall Street Long, Cool Summer", July 17, 2004:
"It's scary," said Ned Riley, chief investment strategist, State Street Global Advisors in Boston. "I cannot recall a another period of such tighteners in terms of trading range or the lack of volume on the exchanges." This should be a good time for the market. Earnings are booming. Companies in the Standard & Poor's 500 index will see a 21 percent profit gain in the second quarter, according to Reuters Estimates, topping 20 percent for the fourth straight results period. Interest rates have risen, with the Federal Reserve acting last month to stamp out an inflation threat. But a report Friday showed consumer prices, minus food and energy costs, rising last month at a minuscule 0.1 percent, a surprisingly low level. Rates remain relatively low by historic measures. "The economic backdrop is developing ideally," said Riley. "The economy's cooled off enough, so we don't have to worry that rising inflation and interest rates will lead to a slowdown." But investors aren't buying it. After initially rallying on the tame inflation Friday, the market pulled back sharply from its highs. Over the past weeks, it's been a similar pattern, with bullish reports sparking a flurry of buying but little follow-through.
What Ned doesn't understand is that any time in any market will be scary if there is no plan of attack. If we followed his logic of good earnings — how would we ever know when to enter or exit a market? What do good earnings have to do with how much Microsoft you should buy based on your account size?
While some pretend they can divine direction with fundamental analysis, others pretend there is easy money with short term options trading. But at what risk? Randall W. Forsyth of Barrons paints a great picture in his piece, "Hell to Pay", published July 19, 2004:
With high valuations, and thus low prospective returns in equities and the array of fixed-income instruments, hedge funds have been "selling volatility" to generate income, for they're desperate in this environment. That is, they're selling options to collect the premium income. And so long as the markets stay quiescent, they can collect those premiums without those options being exercised. Think of a writer of flood insurance in a drought. As a result, Goldman says, all these sellers of volatility have driven down the price of options to where, in his words, they're "stupid cheap." And that's extended to the VIX, the CBOE's benchmark of volatility, which has dropped to the lowest since early 1996, he adds. But Mark Turner, chief investment officer of Pentagram Investment Partners, a Boston hedge fund, likens this tactic of selling depressed options to "to picking up pennies in front of a steamroller." While your luck holds out, you can grab them; if not, you're flattened. That still leaves the problem for hedge funds to make their "point-a-month" bogey to collect their fat fees. The simple answer, according to observers who want to remain anonymous, is to leverage further by exploiting rules that, ironically, are meant to limit risk. "Value at risk" is supposed to describe a fund's or bank's exposure resulting from the size and the riskiness of their positions. If volatilities have been cut in half, the risk is similarly halved. That means the position can be doubled without changing VAR. But if something bad happens and the market spikes, the VAR shoots up, and positions have to be slashed. There doesn't seem to be a hedge fund like the monster Long Term Capital Management, which blew up in 1998, out there, but there are more numerous smaller funds. The Fed arranged for a bailout of LTCM by the major banks. But if an offshore fund collapsed, would the Fed step in? Turner recalls that the Bank of England let Barings in 1995 fail when its Japanese stock and bond options went against it.
People wonder how trend followers find themselves winning for decades, but if people persist on trying to pickup pennies in front of steam rollers — is it really a surprise that big unexpected events appear to form trends — and reward trend followers?
Some traders do, however, see the logic in following trends. They know prediction is futile. Good example in this excerpt from Rev Shark, "Don't Try to Fight the Market",July 16, 2004 in RealMoney by TheStreet.com:
The tough thing about the market is that there are long periods of time when it seems to be acting completely irrational. No matter how much we reason or complain, it just continues to do what it wants. The more we fight it the more obstinate it becomes. When we arrive at the point where we simply can't take it any longer and decide to cut our losses, all those arguments that we have been making suddenly start to matter and market direction shifts. There are a lot of ways to make money trading in stocks, but failing to respect the intelligence and power of the market is generally not one of them. That doesn't mean you shouldn't look for turning points, but never forget that the market is smarter than you and no matter how convinced you are of something, it doesn't much matter if the market doesn't agree…trying to catch the point where the market has fully discounted its concerns has been a losing game. Sooner or later things will turn, but timing is everything in this game, and if you are wrong it can be quite painful. As I've mentioned numerous times in my daily scribblings, I tend to be a "reactive" trader rather than an "anticipatory" one. Mr. Market is bigger, more powerful and, above all else, smarter than me. The only way I'll win an argument with him is to hope he decides to change his mind, and if he does change his mind he is going to do it when he's good and ready — not I when I think he has gone too far. So my approach is to not fight the beast, but rather climb on his back and try to benefit from his momentum when he decides to embark on a new journey. When you find yourself in full agreement with Mr. Market, he is an extremely powerful friend who can make you buckets of money if you stick with him. He can turn on you quickly, but if are in tune with him, nothing can be more profitable.
We don't support Rev Shark (whoever he is) and he may well be a fundamental trader, but his brief logic is music to trend followers' ears.
Trend Following Products
Review trend following systems and training: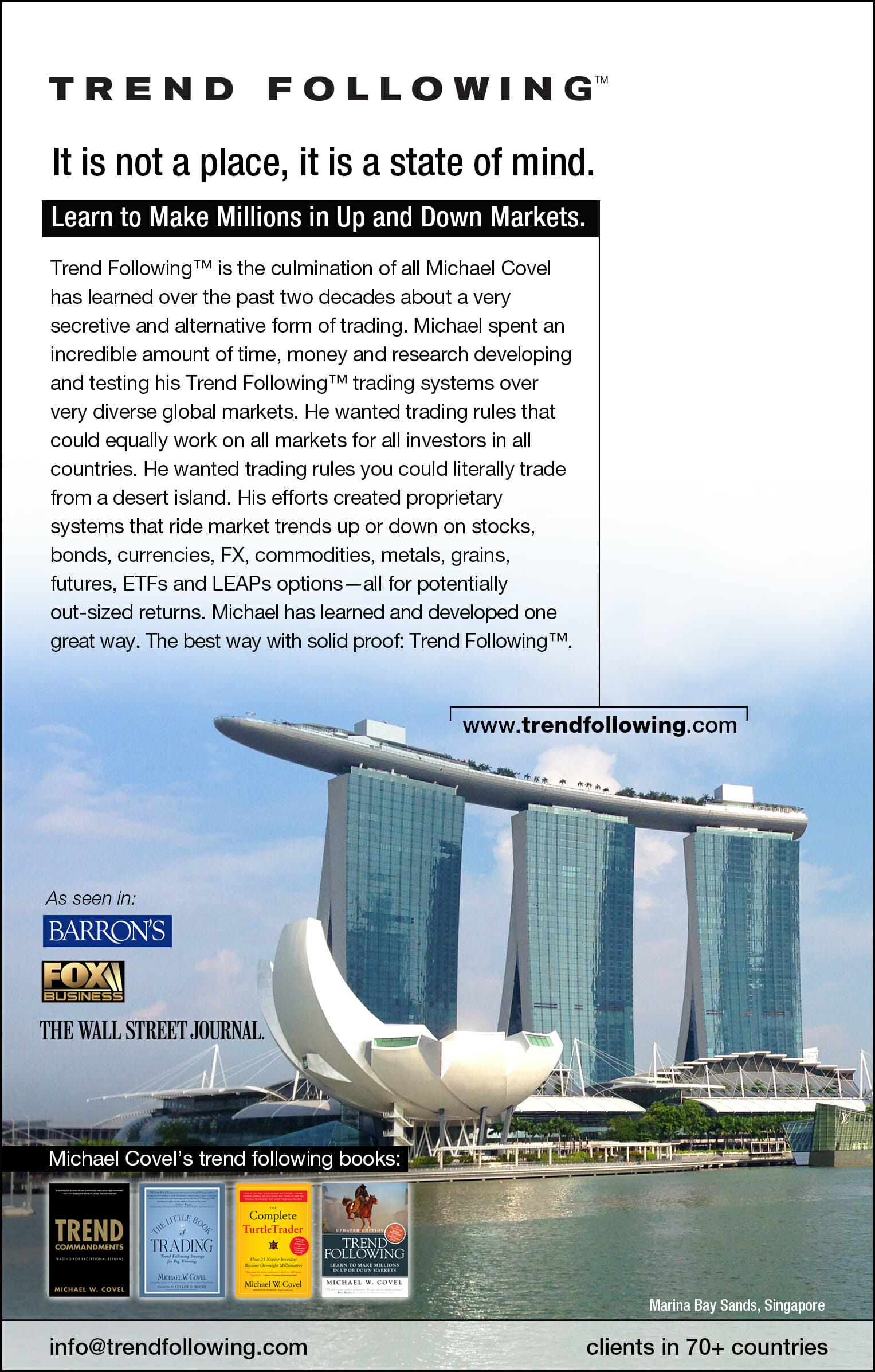 More info here.