Rajesh Mahapatra writing for The Associated Press on Wednesday, August 25, 2004:
Kuwait's foreign minister said Wednesday that Middle East oil exporters are producing at maximum capacity to stabilize prices that are being driven up by speculators from outside the region. Oil prices have soared for weeks as traders worried about the threat of sabotage against the Iraqi oil infrastructure and a possible decline in Russia's oil production. A rash of buying by institutional investors also contributed to the price rise, fueling concern that crude oil would top $50 per barrel. But prices have retreated this week although the October contract for light crude was up 24 cents at $45.45 a barrel in early trading Wednesday in New York. Kuwait's Foreign Minister Sheik Mohammed Sabah Al Salem Al Sabah said, however, the price drop earlier this week was not enough. "We would like to see stable, lower oil prices. We are producing at maximum capacity, hoping to stabilize the prices," he told reporters. "The oil prices have been driven up by speculation. It's been driven by people who are outside the region," Sheik Mohammed said. "Still, they are high and the producers are not responsible for this."
Blame someone? Give us a break.
Speculators are part of the market process. If there were no speculators willing to accept risk, how could we have healthy markets?
Do you think speculators win all the time? Of course not. The Kuwait foreign minister is simply looking for a scapegoat and who better to blame than someone making money.
Great Speculation Quotes
"October. This is one of the peculiarly dangerous months to speculate in stocks in. The others are July, January, September, April, November, May, March, June, December, August, and February."
Mark Twain
"This is what the painter, the poet, the speculative philosopher, and the natural scientists do, each in his own fashion."
Albert Einstein
"A speculator is a man who observes the future, and acts before it occurs."
Bernard M. Baruch
"Some people think of speculative traders as gamblers; they earn too much money and provide no economic value. But to avoid crises, markets must have liquidity suppliers who react quickly, who take contrarian positions when doing so seems imprudent, who search out unoccupied habitats and populate those habitats to provide the diversity that is necessary, and who focus on risk taking and risk management."
Richard M. Bookstaber
Risk Management Principles and Practices
Trend Following Products
Review trend following systems and training: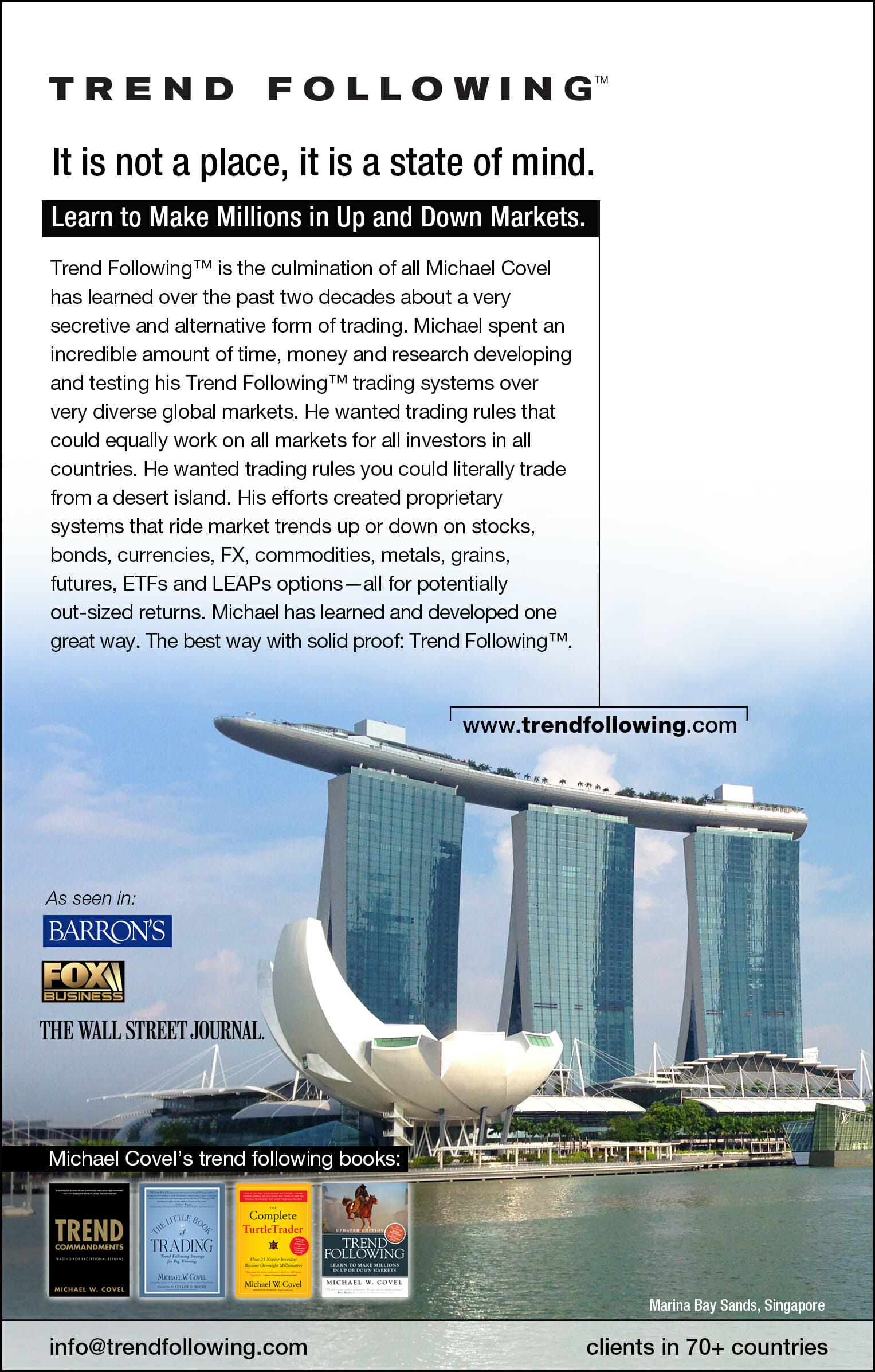 More info here.