"Money does not give a trader more comfort, because, rich or poor, he can make mistakes and it is never comfortable to be wrong. And when a millionaire is right his money is merely one of his several servants. Losing money is the least of my troubles. A loss never bothers me after I take it. I forget it overnight. But being wrong – not taking the loss – that is what does the damage to the pocketbook and to the soul."
Reminiscences of a Stock Operator
Standard & Poor's Trend Following Index
Standard & Poor's has released a trend following index. The index bolsters claims made for years (on the TurtleTrader site) that trend following is indeed wise, prudent and very profitable. Readers may find their general white paper below (PDF) an interesting overview.
Download the Adobe .pdf white paper.
Standard & Poor's, the independent financial research, ratings and indices leader, today announced the launch of the S&P Managed Futures Index, the firm's latest offering in the alternatives arena. The S&P Managed Futures Index is designed to offer an investable benchmark that is representative of the managed futures segment of hedge fund investing, focusing on the systematic, trend-following trading methodologies that constitute the significant majority of managed futures investment strategies. The ticker for the index is .SPHGMFI. The S&P Managed Futures Index is constructed to offer investors a standardized and investable benchmark that is representative of systematic, i.e., model-driven, managed futures funds… Managed futures funds tend to make less profit when the markets are flat and there is little opportunity to take advantage of expected price changes‹either up or down. Volatile, or more accurately, steadily trending markets have proven to be profitable for managed futures funds as a whole… The majority of managed futures programs base their investment decisions on quantitative methods to analyze historical prices in order to identify patterns or trends that can be used to predict future values or price/trend direction. A shrinking number of managed futures funds use discretion alone to implement opportunistic trading strategies. Systematic trend-followers identify trends in the marketplace over varying time periods using quantitative models…
Index of Trend Following Fund Constituents
Aspect Diversified Fund Beach Discretionary Fund Ltd.
Campbell Financial, Metals & Energy Large Portfolio (FME Large)
Chesapeake Diversified Program
DUNN Combined Financial
Eclipse Global Monetary Program
Graham Global Investment Fund Ltd. (Diversified Portfolio)
Hyman Beck & Company (Global Portfolio)
John W. Henry & Company, Inc. Global Financial & Energy Portfolio
Beacon Meka-MV
Millburn International (Cayman) Limited – The Diversified Portfolio
Rotella Polaris Fund, Ltd.
Willowbridge Argo Trading System
Winton Diversified
Trend Following Products
Review trend following systems and training: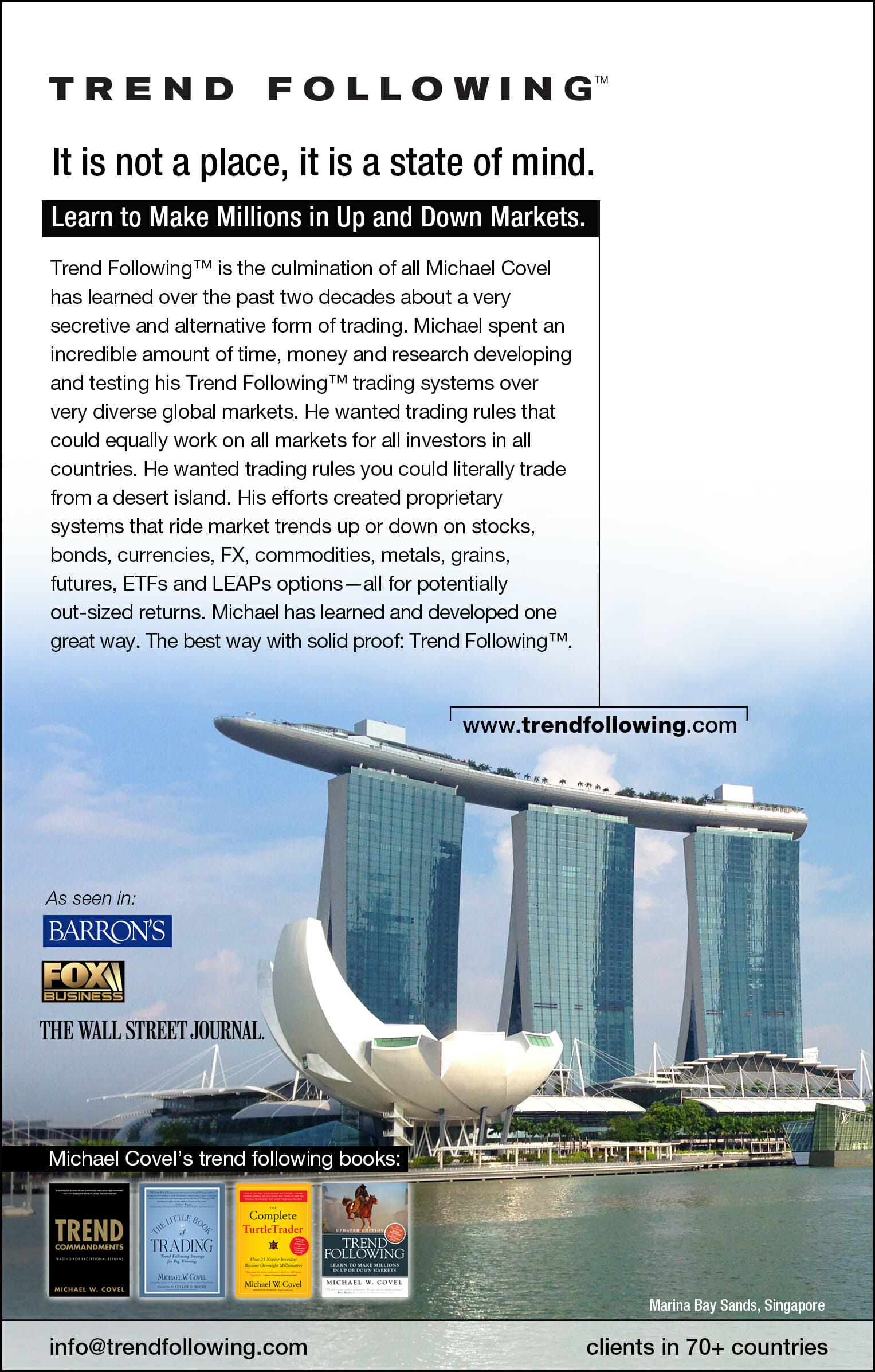 More info here.