Excerpts from the Washington Post, by Michael D. Shear and Spencer S. Hsu:
Virginia Rep. James P. Moran Jr. (D) borrowed $50,000 from America Online founder and former chief executive James V. Kimsey in January of last year as he struggled financially, using the money to trade in stocks before repaying it a few months later. The six-term U.S. House member — who represents Arlington County, Alexandria and parts of Fairfax County — did well enough at first with his gamble to repay the loan, with interest at an annual rate of 15 percent, for a total of about $52,100. But Moran continued buying and selling stock options last year, in the end losing about $15,000, he said.
TurtleTrader comment: Everyday people are now blaming someone else for their own lack of a plan or their own ignorant gambling in the stock market. No one is taking responsibility for his or her own actions. Then along comes Jim Moran — the day trading congressman with rich (and getting poorer) friends at AOL. The scary thing is that Moran is not only the bumbling poster child for day trading futility, but he is also a member of Congress now attempting to pass laws to protect people from themselves. Think about it. Moran is now setting forth to pass laws to protect himself from himself.
There may be questions about my judgment in accepting this loan and what I did with the money, Moran said in a statement. That is understandable and warranted, but there was no compromise of the public trust involved in this transaction nor in any prior loans that I have reported.
TurtleTrader comment: What does all this have to do with trend following? The actions of Moran or any other congressman will never enable a trader to know when to buy or sell or how much to buy or sell. The market makes the laws. The market makes the punishment. The punishment will be a trend up, a trend down or a flat period. Don't look to politicians (especially a goof like Moran) for your trading hand holding. Congress? It's all a dog and pony show.
Moran repaid the loan in four installments between March 9, 2001, and May 17, 2001, with stock market winnings, Kerman said. He said Moran decided to repay the loan because it was causing too much anxiety. After Moran repaid the loan, his net stock market profits turned into losses. The losers included investments in which Moran essentially bet on the direction of the Nasdaq 100 index, a highly volatile group of technology stocks. I said, 'Look, this is just stupid,' Moran said. I realized at some point it's time to realize that I'm not as smart as I think I am.
Trend Following Products
Review trend following systems and training: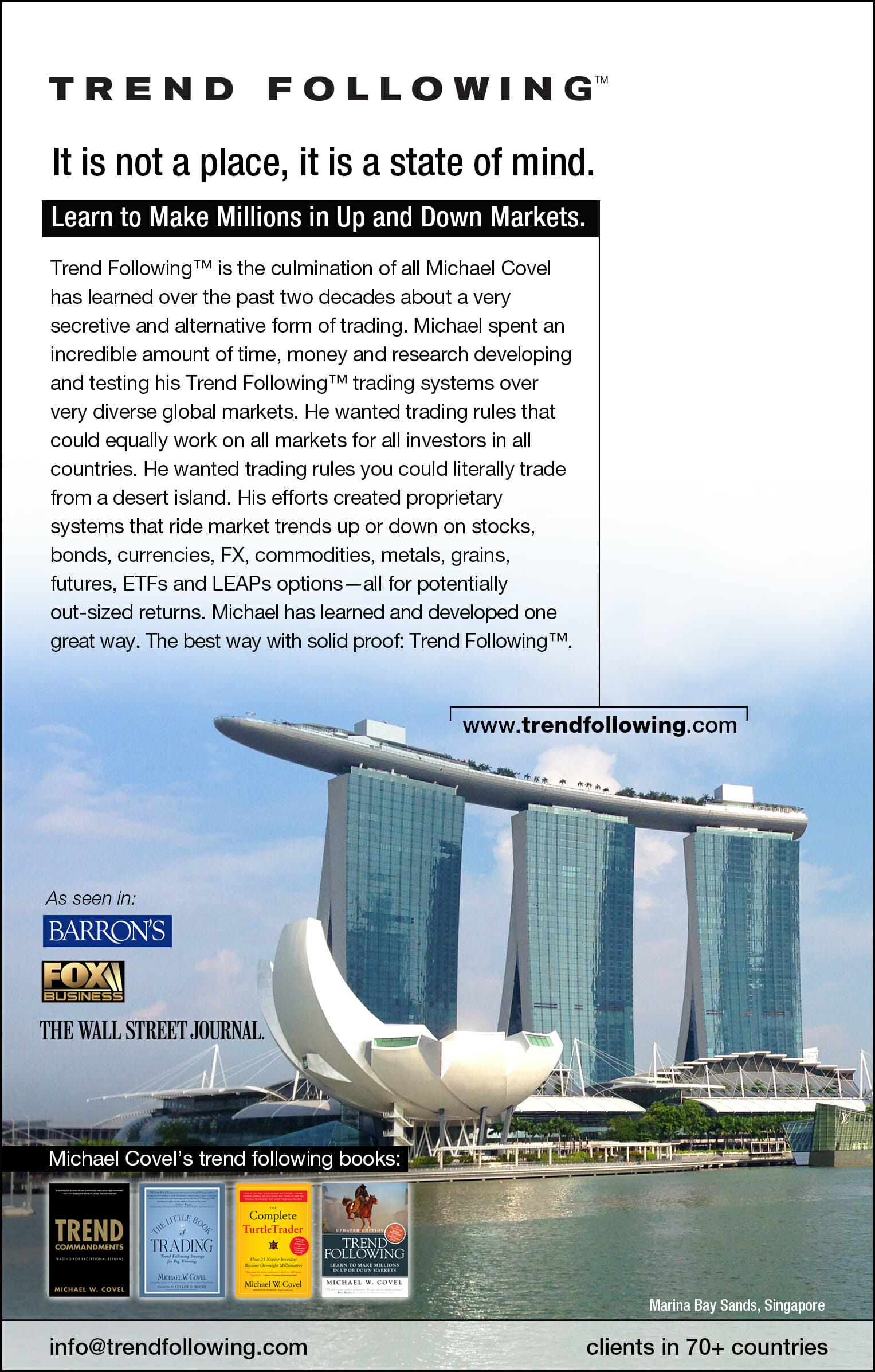 More info here.