Below are excerpts from the financial news. Some might argue our comments are the latest contribution to post bubble revisionism. Take a careful read of the site if you believe this to be true. TurtleTrader comments are in bold.
The average annualized gain for all investors for the S&P 500 comes to an insignificant 1.18 percent, he says. If we add on dividend returns, that probably averaged about 1.8 percent, and the total average annualized return for investors since October 1990 is now less than 3 percent.
TurtleTrader® comment: This is misleading. These returns are based on buying and holding — that's it. These numbers represent no thought except to buy.
Newman says investors made a big mistake during the 1990s. Looking back at how investors profited from the Great Bull Market, he found the public bought stocks at or near the top. Many people were left holding the bag when the market crashed.
TurtleTrader® comment: The key is not to believe a perfect entry is the Holy Grail. It matters more that you have a pre-planned exit long before you ever enter. People were left holding the bag since they had no exit plan. They were buying and holding and getting creamed.
I feel an upswell coming, but it's being camouflaged by warnings of another terrorist attack, bombings in the Middle East and India and Pakistan's nuclear capability, said Ned Riley, chief investment strategist for State Street Global Advisors, which oversees $60 billion. But if we get through the weekend without significant events, the markets will pick up positive momentum.
TurtleTrader® comment: He oversees $60 billion and freely admits that his feelings are playing a role in an investment process that should be clearly defined.
You want to own stocks when the economy is improving, said Simon, who expects the S&P 500 to rise by mid to high single digits by the end of the year. Absent terrorism fears, the market would be higher.
TurtleTrader® comment: You want to own stocks when they are going up. You want to be short stocks when they are going down. You should use a system that is not predicated on predicting where a market will be in 6 months. No one knows so why make up a meaningless forecast? Absent terrorism fears? Well, we have them! Talking about not having them is pointless.
Trading Systems Question
Q. I currently am using a William O'Neil/CANSLIM method to make a target list of maybe 20 top fundamentally stocks…of this list I use a 5-day/20-day simple moving average crossover as a Buy/Sell signal. In addition to the crossover itself, I usually like to see heavy buying volume also. Again, I am taking already great fundamentally stocks and then using the 5/20 SMA crossover as an entry signal. I might add that a 1-day (priceline itself) and 20-day also seems to work good also. When using a 1/20 SMA system, I use a 3% pivot point past the MA to confirm the trend. What are your thoughts on this system?

A. Where is the money management? It's not a system without it. Further, saying you have fundamentally sound stocks means nothing in terms of when to buy, sell, or how much to buy or sell. Indicators such as pivot points are designed to predict. Prediction is futile. More.
Trend Following Products
Review trend following systems and training: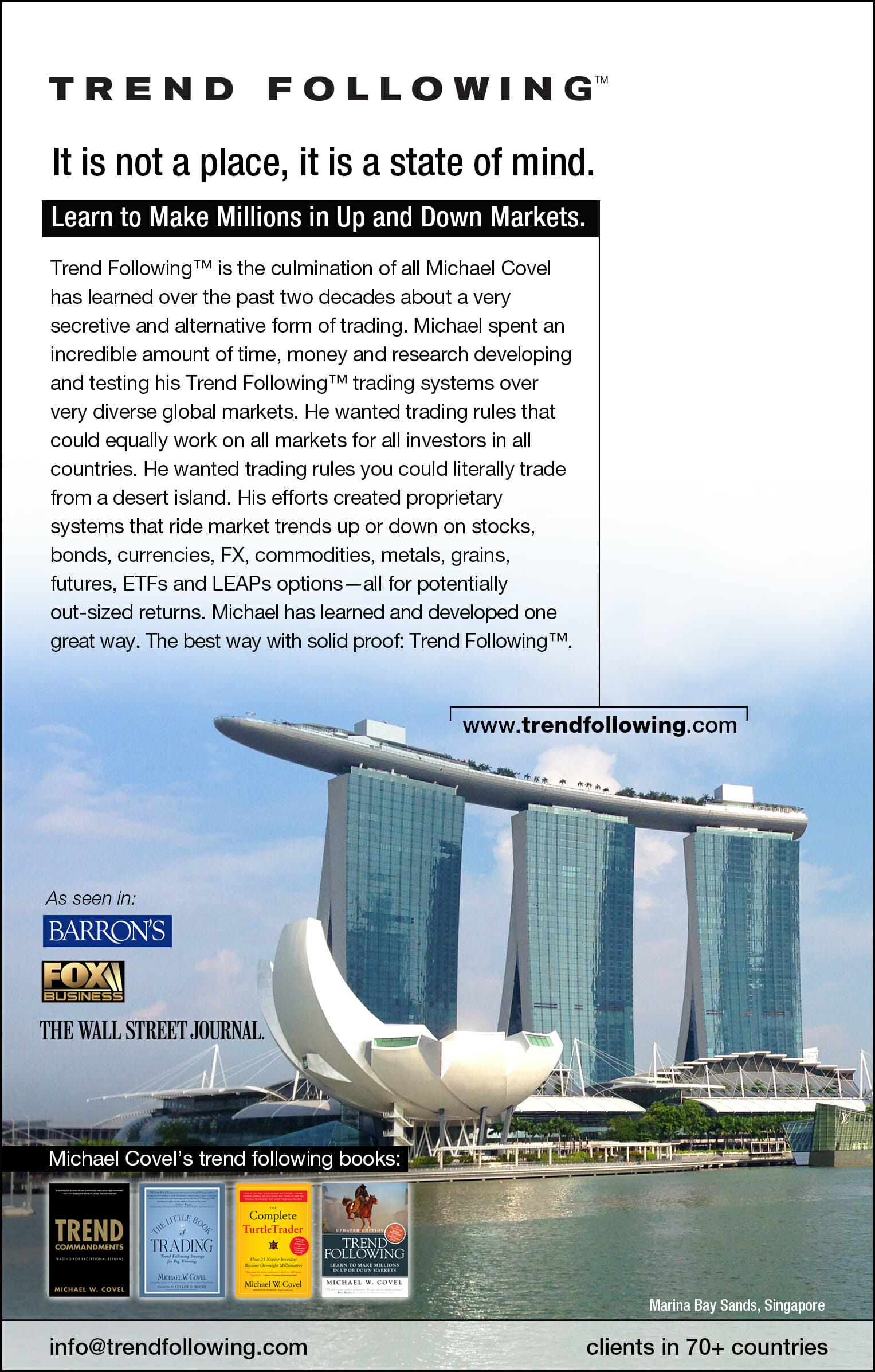 More info here.