This presentation from the Managed Funds Association offers insights into the state of hedge funds:
Evolution of Hedge Funds (Powerpoint)
Allan Sloan of Newsweek recently wrote this article on hedge funds. An excerpt:
Susan Wyderko, head of the Securities and Exchange Commission's office of investor education, warns investors to beware. "Although funds of hedge funds offer more diversification than investing in a single hedge fund," she says, "they still can be riskier and more expensive to own than traditional mutual funds." I'm all in favor of intelligent, informed investors' being allowed to take intelligent risks with their money. But I fear that hedge funds have had such a glorious history (and sound so sexy) that naifs will buy into them and get burned. And wait, there's more. Because far too many pension funds invest based on past performance, pension money has been flooding into hedge funds the past few years, even as hedgies' performance has deteriorated. Lots of pension funds are treating hedge funds as something in which to invest a certain percent of their assets, rather than as complicated, tricky investments that should be analyzed individually. This can't possibly end well.
Allan Sloan
Enough. No more treating everyone like they are helpless. To make money in the markets, you must risk. No risk, no return. The more you risk, the greater your chance for return. We know we have a problem when the government determines who can try and get rich and who can't.
Gibbons Burke of MarketHistory.com addresses the issue head on:
The market serves a valuable function in our economy not often talked about: It provides an efficient mechanism for transferring precious capital from those who are ill-equipped to steward its growth to those who are adept. A variety of market participants provide this service up and down the food chain. The financial markets are voluntary arrangements. No one is compelled to purchase a piece of trading software. No guns are involved in herding investors into seminars. Advisory letters are sent to those who willingly subscribe to them, and may be cancelled at will. Investors who avail themselves of these services without exercising due diligence and taking responsibility for their own actions are the true dangerous lot — they are a danger to themselves. They blame others for their bad decisions and misfortunes; they delude themselves about the true nature of their problem, so the solution remains ever beyond their ken.
Gibbons Burke
We will take Burke's view over Sloan's every time. Where do you stand?
From Reuters:
WASHINGTON, Aug. 31 (Reuters) – The Securities and Exchange Commission filed civil fraud charges Wednesday against two executives of KL Group, a hedge fund in Palm Beach, Fla. The S.E.C. charged that Won Sok Lee, Yung Bae Kim and another unidentified defendant "defrauded investors through misrepresentations and omissions concerning the profitability and security of their investments in the hedge funds." The whereabouts of Mr. Kim and Mr. Lee are unknown and they do not have any known legal counsel, according to the S.E.C. senior trial counsel, Scott A. Masel. In March, the hedge fund was shut down and its assets frozen by a Florida judge after the S.E.C. filed a civil action to halt what it described as an $81 million fraud. The March complaint charged that the KL Group, a related trading entity and the KL principals, Won Sok Lee, John Kim and Yung Bae Kim, fraudulently raised over $81 million, attracting investors by using fake account statements showing that the hedge funds were profitable."
We know what you are thinking, "so what!"
But there are some good lessons here perhaps not so obvious:
It is a zero sum game. So inept investors not doing their homework and throwing money at hedge fund scams, provide losses to the winners out there armed with proper strategy.
Palm Beach is a land of wealth. Here we have people awash in cash and hopefully knowledge who still make mistakes. Big mistakes. Money by itself will never insure success. If you are foolish and greedy in the markets, the markets will punish you.
Fly by night hedge fund managers promising untold riches with no proof should cause one to pause.
More on hedge fund scams…people never change!
"Dallas Mavericks owner Mark Cuban wants to start an investment fund that makes money by gambling – maybe even betting on sports. The idea would be to "prove that traditional gambling, via a fund, is less of a gamble than investing in the stock market," Cuban said Tuesday by e-mail."
Michael Hiestand, USA TODAY
Read: Mark Cuban Blog Entry.
We all know crude oil has had a huge run this year. It has come off its all-time high, but still continues to be much higher than the beginning of the year. Taking that into account, consider Barton Biggs's words from the August 2004 edition of the International Herald Tribune:
Biggs said he thought the price of oil should be closer to $30 to $34 a barrel. So convinced is Biggs of his investment thesis that he increased the size of his bet in July, even as prices were rising. "When the price of an investment goes against us, unless the fundamentals have changed, our inclination is to buy more," he said in the letter.
Some feedback from a reader:
Biggs' investors trust him and his partners, maybe because they are getting out of this man what they want, decisions based upon his brand of common sense and they are willing to underwrite the losses. Maybe he'll stumble upon enough trends to make some bucks along the way and save himself. As my friend and I work on building [our trading firm], inspired in part by your work [at http://www.trendfollowing.com], the big thing we notice is that few talk about is survivorship and compounding. These two forces could end up doing the heavy lifting in growing our funds. It's great to have a viewpoint [like Biggs' fundamental view] and ideas and it's even nice to see them made manifest in the arena of the markets, but it's much nicer to survive coming in and leave the arena in one piece voluntarily and in comfort.
The TurtleTrader web site mentions numerous traders, most of whom trade a trend following system. However, to make money for yourself in trend following is different from trend following to make money off fees from clients. This is critical to understand. If the only thing you do is trend follow as originally intended, (to make the most money possible) then you align yourself with the turtles and what they learned.
The turtles were turned loose and told to make the most money possible. They had no restrictions. However, later on, when many of them went out to manage money for clients they changed some aspects of how they traded. They still continued to make a lot of money, but they also began listening to their clients. Why? Because managing money for others often puts you at their whims, and clients are always risk averse. By requesting less risky actions of the manager, the client puts a straight jacket on the manager from properly implementing the trading system.
Why do some managers handle client money if they know they will not be able to implement their system properly? Greed. Management fees from clients can be huge. If you manage $100 million you can get a 2-6% management fee even if there is no positive performance. That's $2-6 million profit for being no more than a caretaker of assets. If you go this direction, you no longer are focused on trend following, you're focused on the fee.
Issues to keep in mind:
Clients seldom understand. Managing money for clients is hard. Clients usually don't understand trend following and will often panic and pull out just before a big move that could make them a lot of money.
Clients are impatient. They often put money with a manager at the wrong time and just as often take it away at the wrong time.
Clients may request an initial system adjustment. They want trend following changed in order for them to invest their money in the first place. The manager is then faced with a difficult decision: take the client money and make money through management fees (which can be very lucrative) or trade as originally designed. Obviously, trading a trend following system as originally designed is the optimal path in the long run.
More client money doesn't mean more success. Trying to trade millions upon millions of dollars for clients is hard to do. Trend followers always had their best returns managing less money.
You can see why looking at publicly tracked money managers for clues to trend following reveals only half the story. If you let those statistics influence your assessment of trend following, you make a big mistake. The next time a money manager retires, look closely to see why. Usually difficult clients were the main reason.
What does all this mean for the individual trader?
Opportunity. The opportunity to make big money (30-100%), while trading as a trend follower, has never been greater as long as you:
Trade a trend following system.
Trade it the right way as intended.
If you ever get to the point where you want to trade for others — never ever listen to their advice on how to trade the system.
Resource Center:White Papers
What are Managed Futures? Some definitions:
Public funds, private pools, managed accounts, and other investment entities which invest on a long and/or short basis almost exclusively in exchange traded commodity derivatives and/or financial derivatives (futures, options and warrants).
Broadly speaking, managed futures is an investment for the purpose of speculating in futures and options markets. A professional trading advisor…is employed to manage the trading in futures and options markets.
Managed Futures refers to professionally managed investments in commodity and financial futures markets.
The term managed futures represents an industry comprised of professional money managers known as commodity trading advisors (CTAs) who manage client assets on a discretionary basis, using global futures markets as an investment medium.

More Definitions of Managed Futures and Hedge Funds
Trading for Clients: Resources and Links
Managed Futures and Hedge Fund White Papers
Trend Following: Performance, Risk and Correlation Characteristics
by Graham Capital (Ken Tropin).
Managed Futures: A Real Alternative
Managed Futures Trading and Futures Price Volatility
by Scott Irwin and Satoko Yoshimaru, Ohio State University, completed in May 1996.
How Do CTAs' Return Characteristics Affect Their Likelihood of Survival?
by Fernando Diz, Syracuse University, completed in November 1996.
Managed Futures, Hedge Fund and Mutual Fund Return Estimation: A Multi-Factor Approach
by Thomas Schneeweis and Richard Spurgin, University of Massachusetts, completed in May 1997.
Performance Persistence for Managed Futures
by B. Wade Brorsen, Oklahoma State University, completed in September 1997 and updated April 1998.
Survivorship Bias and Investment Style in the Returns of CTAs: The Information Content of Performance Track Records
by David A. Hsieh with William Fung, Journal of Portfolio Management, 24 (1997), 30-41.
Informational Content in Historical CTA Performance
by Thomas Schneeweis, Richard Spurgin, D. McCarthy, Journal of Futures Markets (May, 1997).
Comparisons of Commodity and Managed Futures Benchmark Indices
by Thomas Schneeweis, Richard Spurgin Journal of Derivatives (Summer, 1997).
Return Interval Selection and CTA Performance Analysis
by D. McCarthy, G. Martin, Derivatives Quarterly (Summer, 1997).
Multi-Factor Models in CTA/Hedge Fund Return Estimation
by T. Schneeweis, R. Spurgin Working Paper, CISDM/SOM, University of Massachusetts, 1996.
Managed Futures and Hedge Fund Investment for Downside Equity Risk Management
by Thomas Schneeweis, Richard Spurgin, M. Potter, Derivatives Quarterly, Vol. 3, No. 1 (Fall, 1996).
Trend Following Products
Review trend following systems and training: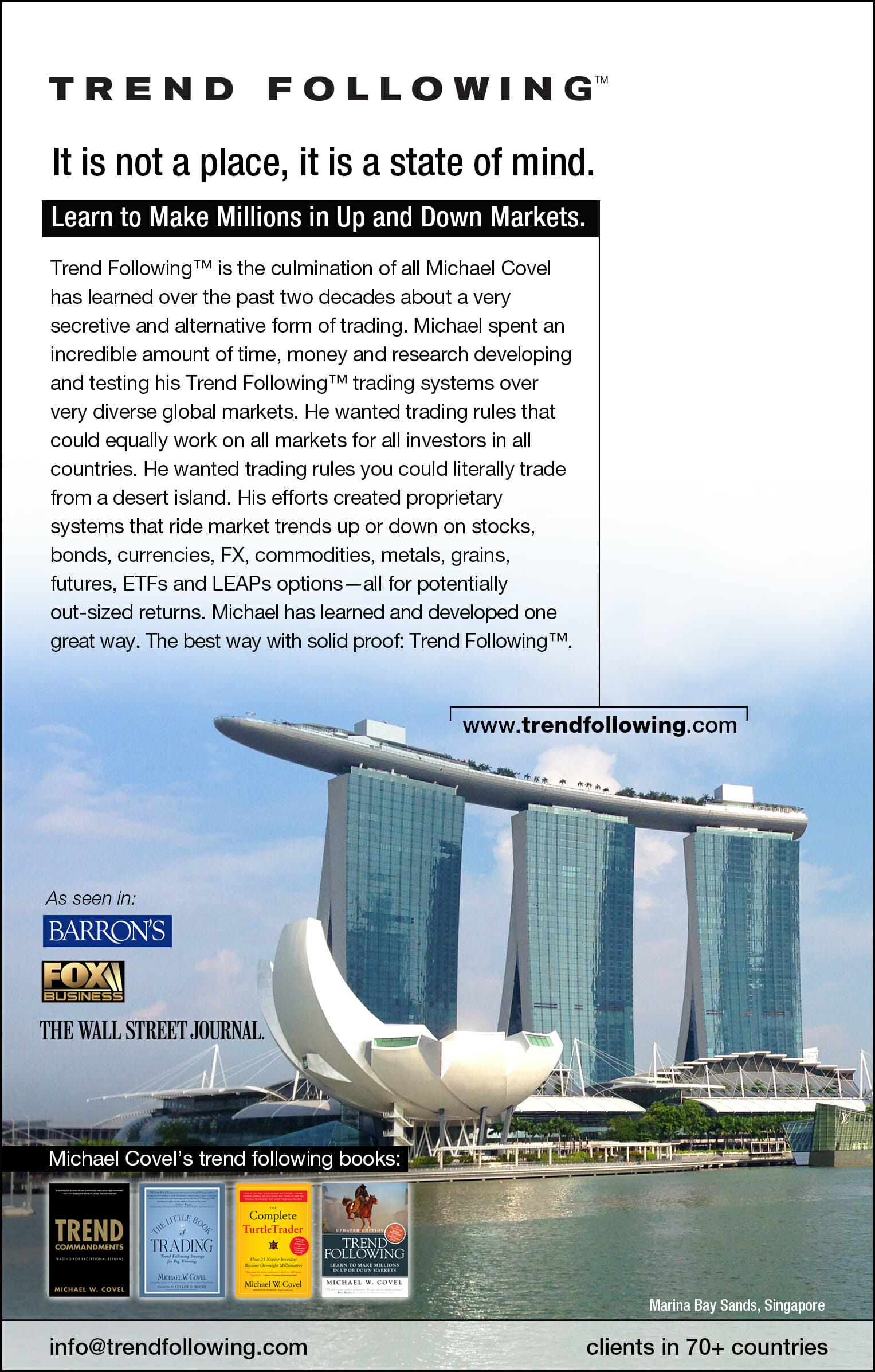 More info here.