Quick. You need to advise clients what to buy and or sell…and how much to buy or sell based on current volatility. What do you do? A Bloomberg news excerpt showed one analyst tried this:
Credit Suisse First Boston's Jamie Kiggen took a second job for the holiday season. He and associate Rick Vallieres donned flannel work shirts and jeans on Tuesday, took a train to Delaware and spent two days filling book and music orders for Amazon.com Inc. customers at the No. 1 Internet retailer's Newcastle distribution center. Kiggen said Amazon's management didn't know he and Vallieres were there until afterward – he wanted it that way so they could get an accurate, up-close look at Amazon's business. The analysts saw high morale and energy at the Newcastle site and noted in a report that "customers are plentiful and active, customer-service levels are high and operations are becoming more efficient."
How does an analysis of firm morale help you to determine how much of Amazon stock to buy or sell? Take for example any company, what if operations are efficient and the stock price drops 50%? Do you hold on to a losing stock because things are efficient? You buy the stock because there is efficiency? So you sell if things become inefficient?
I'm an analyst, so I'm always looking for primary sources of information, and this seemed like something with potential," he said in an interview. "They're hiring lots of temp workers because of holiday sales, and I just filled out an application." Kiggen, who's been an equity analyst for six years, said he used his real name on the application. Under the "previous employment" section, Kiggen filled in his current job, "analyst, Credit Suisse First Boston.
Isn't the primary source of information that anyone can rely on, including misguided fundamental analysts, the stock price? Isn't that the only information that gives a true measure that you can act on with trading decisions?
Kiggen called Amazon executives last night to tell them about his on-the-job research before issuing a report entitled "A Different Kind of Stock-Picking." "I made management aware I was down there, (though) they wouldn't confirm or deny any of my data points," he said. "This was my research, totally unfiltered by them." While Amazon didn't know about Kiggen's visit until he told them later, company spokesman Bill Curry said has no problem with Kiggen's unorthodox methods. "As long as he came to work on time and took care of our customers, we were happy to have him," Curry said. "We have no reason to believe he did anything wrong."
This analyst's "analysis" makes for a fun story. It's cute. Unfortunately, the story was serious. His actions are presented as novel and smart. Most likely this man is very bright with a fine educational background, but those factors are not relevant if you are a trend follower focused on the objective reality of price for your decision-making. Now consider this from Jerry Parker of Chesapeake Capital:
We're not really interested in people who are experts at the French stock markets or German bond markets. It doesn't take a huge monster infrastructure – not Harvard MBAs and people from Goldman Sachs.
Trend Following Products
Review trend following systems and training: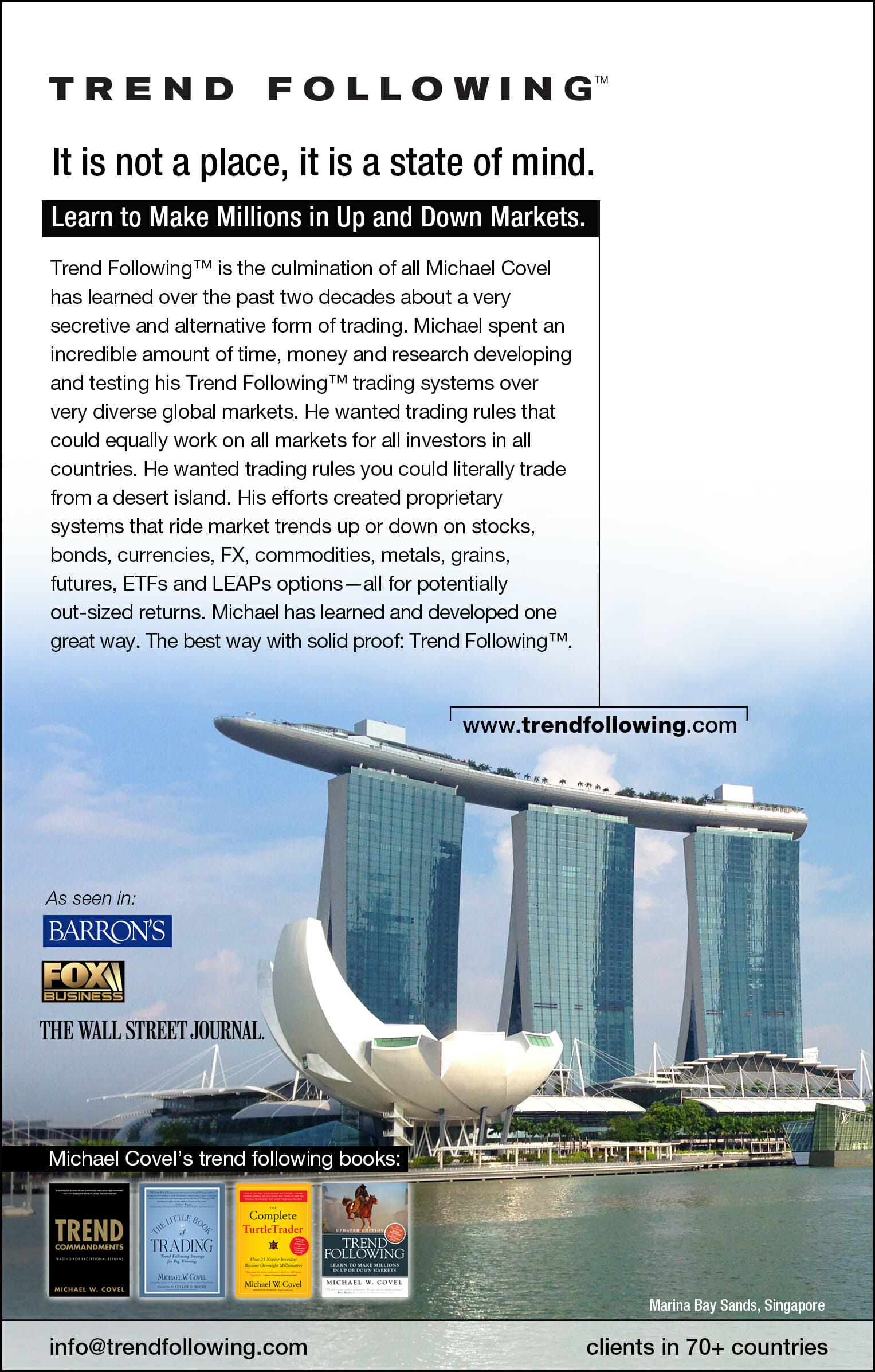 More info here.