How does the insight below help to buy or sell a stock or commodity? It doesn't. Greenspan states that in the short-term there will be problems, but in the long term everything will be rosy. But he doesn't know for sure whether to be long or short. How can he help to make a decision for your specific portfolio? This September 20, 2001 article from Reuters helps lay things out:
U.S. Federal Reserve Chairman Alan Greenspan told Congress on Thursday that last week's devastating attacks on the United States will damage the economy in the short-term by making Americans fearful of the future but won't dampen bright long-term prospects. The shock of September 11, by markedly raising the degree of uncertainty about the future, has the potential to result, for a time, in pronounced disengagement from future commitments, the Fed chief said in remarks prepared for delivery to the Senate Banking Committee. This pull-back from economic commitments will slow the economic pace, he said. "Indeed, much economic activity ground to a halt last week," Greenspan said. "But the foundations of our free society remain sound, and I am confident that we will recover and prosper as we have in the past. The U.S. central bank on Monday slashed short-term interest rates and it has injected huge amounts of cash into the banking system to ensure ample liquidity to keep markets functioning." U.S. stock markets have fallen sharply since reopening on Monday after a four-day shutdown following the attacks. They continued to post losses on Thursday morning. But Greenspan's testimony offered no hints of whether the Fed was considering further rate cuts, although analysts expect more this year. The Fed chief cautioned lawmakers, who are pondering new stimulus measures, that it will take some time to know the full impact of the attacks which leveled the twin towers of the World Trade Center and damaged the Pentagon, leaving close to 6,000 dead or missing, on U.S. economic activity. In the weeks ahead, as the shock wears off, we should be able to better gauge how the ongoing dynamics of these events are shaping the immediate economic outlook, he said. Greenspan met privately on Wednesday with congressional leaders, some of whom said afterward that he counseled them not to rush new stimulus proposals before knowing how the economy will perform after the attacks. In his testimony, Greenspan noted that U.S. economic activity was weak even before the attacks.
The Plunging Stock Market Opportunity or Damage?
The article above also points to the equity market sell-off since the historic 4 day close after the attack. How does this help you trade? The stock market, whether Dow or Nasdaq, has been falling steadily for longer than 5 days – it's been falling for months. The Nasdaq has been falling for over a year. The trend is down.
There is plenty of opportunity to make money when following a trend up or down. Why only be bullish? Trend followers don't care. For all those that panic at a market drop and lose their shirts, there are those profiting from shorting the market. Never forget: The market is a zero-sum game.
More on the Fed
We are reminded of a comment from John W. Henry years ago:
I know that when the Fed first raises interest rates after months of lowering them, you do not see them the next day lowering interest rates. And they don't raise rates and then a few days later or a few weeks later lower them. They raise, raise, raise, raise,…(PAUSE)…raise, raise, raise. And then once they lower, they don't raise, lower, raise, lower. Rather they lower, lower, lower, lower.
The Fed's views, predictions and forecasts are meaningless from a trading perspective. Their actions are only important to the extent that they change the price of the stock, bond, currency or commodity you are trading. However, there is no specific action to take in your trading once the Fed takes action. You must react to price level changes, not the Fed's actions.
Trend Following Products
Review trend following systems and training: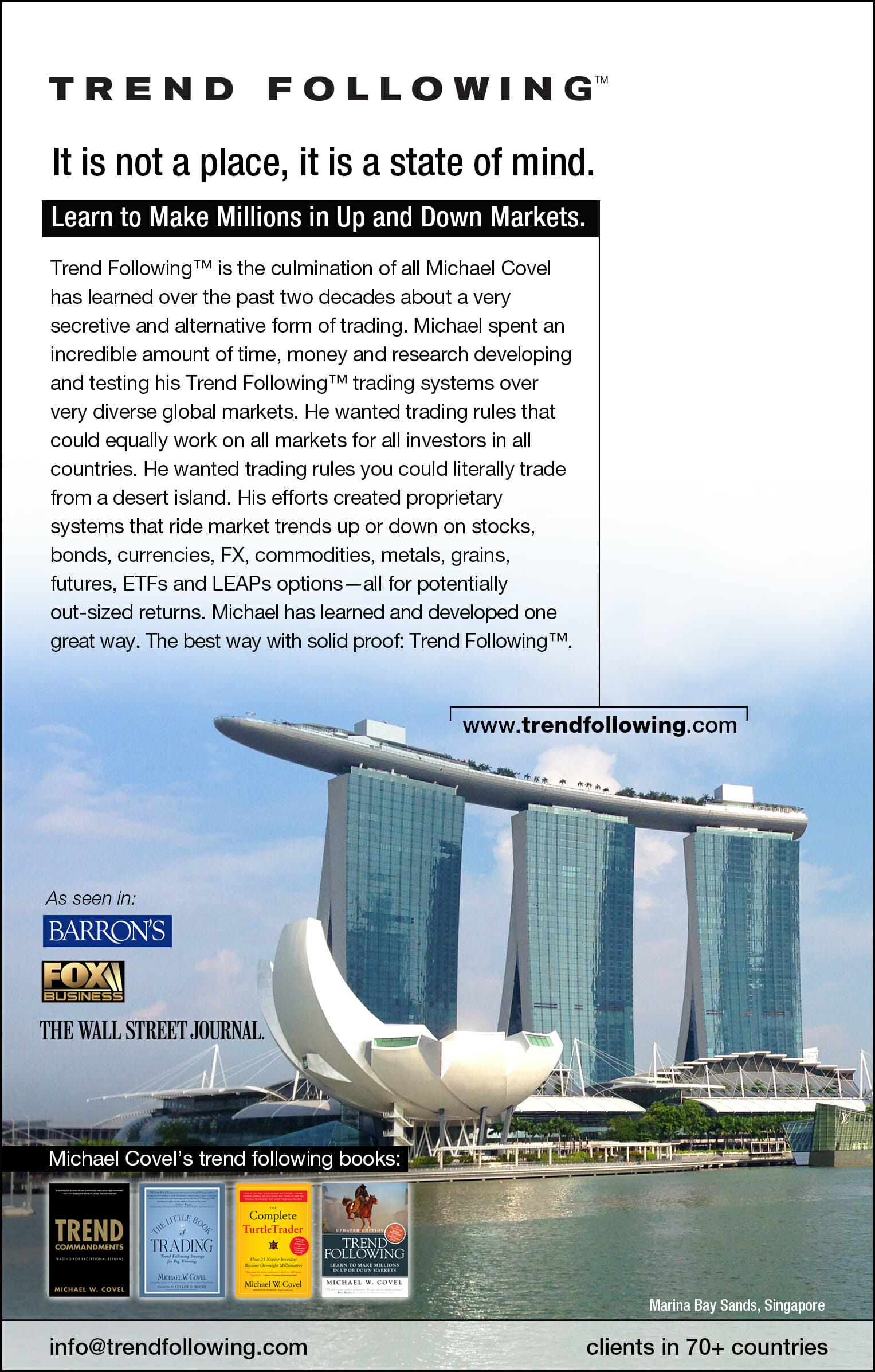 More info here.