"We really need to change that historic dichotomy of cognition on the one hand, emotions on the other hand, and realize that our emotions are the fuel that gives rise to social behavior but also to different levels of intelligence."
Dr. Stanley Greenspan,
Child Development Researcher GWU Medical School
TurtleTrader® comment: Do you want education or profit? They don't go hand in hand. The following article goes to the heart of the matter: does school equal increased earnings?
Dan Seligman, Forbes
Contrary to what you were authoritatively told by the media, our government has no evidence that increased education will raise incomes.

Last July the U.S. Census Bureau sent out a press release that appears to have been totally misunderstood by the journalists of America. With, I hasten to add, some exceptions. Or at least one. The release started off proclaiming that a new Census study showed a big payoff from education and then proceeded to particularize. It said that characters who hadn't made it through high school were earning, on average, only $18,900 a year in the late 1990s.

Meanwhile, those who had graduated from high school averaged $25,900, college graduates averaged $45,400, and acquirers of professional degrees averaged $99,300, which is possibly why you keep seeing parchment on the wall when you visit a doctor. Converting the annual figures to lifetime earnings (assumed to accrue between ages 25 and 64), the Census Bureau observed that the college graduate outearned the high-school graduate by $2.1 million to $1.2 million, while the professional person was up to $4.4 million.
Springing for the bait, newspapers from coast to coast trumpeted that the country would be better off with more education. According to the lead in the Seattle Post-Intelligencer story, New government data support what your parents have told you all along about staying in school: A good education does pay off. An editorial in the Portland Press Herald lamented, in a sentence that speaks for itself: In Maine, ours is not a well-educated work force. The editorial then went on to argue that the Census data show the need for more community colleges. The Washington Post reporter started off with the thought that education has become the ticket to upward mobility for everyone, and later quoted the coauthor of the Census report, Jennifer Cheeseman Day, on its bottom-line message about education: It pays off for everybody–men, women, whites, blacks, Hispanics.
Is it really clear that the country needs more education? And that society would benefit if everybody got more? It is certainly possible to identify individuals not now going to college who would benefit if they did go. But it seems even easier to identify young persons who are in college and shouldn't be there. The enormous number of college students instantly needing remedial help when they show up on campus surely carries a message. The National Center for Education Statistics tells us that 35.5% of first- and second-year undergraduates report having taken remedial courses–most often in math but also in reading, writing and, getting to the truly clueless, study skills (taught to 17.4% of those in remedial programs). The biggest cliché in statistics is that correlation is not causation–that just because there's a persistent association between two sets of data, we may not conclude that one of the events being measured is causing the other event. It would be very hard to find any serious journalist who hasn't heard that sensible thought all his working life. Yet here we are looking at legions of reporters taking it for granted that the correlation between level of educational attainment and level of income is clear and obvious cause-and-effect.
They are ignoring–just as the Census Bureau is ignoring–the powerful possibility that the correlation exists mainly because smart people tend to want more education, and smart people are what employers keep looking for: workers who catch on fast, are easy to train, and don't screw up. Many employers have used college degrees as a proxy for intelligence. But if not-so-smart people try to get in on the high-income game by, say, going to college instead of grabbing a job at age 18, they will ultimately find it doesn't pay. The labor markets are quite sophisticated at sniffing out true mental-ability levels.
Employers not bashful about testing can do it in 12 minutes, which is the time it takes to administer the Wonderlic Personnel Test. This is now given some 2.5 million times a year to job applicants in tens of thousands of companies, not to mention the National Football League, which gives the test to almost every rookie. (A report on the test on CBS SportsLine tells us that offensive tackles are the smartest guys on the field.)

Census Bureau scholars are probably too intelligent to confuse correlation with causation. And yet the study in question seems to say quite clearly that raising educational attainment causes incomes to rise: People decide to go to college for many reasons. One of the most compelling is the expectation of future economic success based on educational attainment.
So I called up Jennifer Day, the report's coauthor, and asked a simple question: Is the payoff from education or from the ability level that is correlated with the amount of education? Crisp answer: Obviously, we can't decipher that.

Next question: What about the proposition that the work force now probably has as much education as it can use? Answer: I don't know.

Final question: Are there any Census studies that have tried to relate not education but ability levels to earnings–ability levels as measured by, say, IQ? Unastonishing answer: Census doesn't really get into IQ. Question for the mighty American media: When do you start running corrections?
TurtleTrader® comment: What is the point? You can go to school. You can receive a degree. However, don't assume a degree alone equates to profit. It doesn't.
More on education.
Scratch Your Head with the News?
TurtleTrader® comment: The following article is the typical daily fodder delivered to the masses. It is a clear reminder of the uselessness of news for making decisions on what to buy or sell and how much to buy or sell.
"Stocks Seen Settling, Eyes on Consumer", By Nichola Groom
NEW YORK (Reuters):
U.S. stocks are poised to fall this week on the heels of the first down week for the broad market in more than a month, though key consumer spending numbers may end up steering the market's direction as investors fret about where the sputtering economy is headed.

With corporate earnings season winding down and a strong run-up in stocks behind them, investors are looking to take a breather, experts said.
: Who are these experts?
The market got a little bit overdone and then settled down and I think we might see a little bit more of that in the next couple of days, said Frank Gretz, market analyst and technician at New York brokerage Shields & Co.
TurtleTrader® comment: What does overdone mean exactly? Is that an objective measure? If we accept the notion of overdone, how much do we buy or sell?
On Friday, the blue-chip Dow Jones industrial average was the only one of the three major averages to end the week in the black, rising a modest 0.2 percent.

Following four straight weeks of gains, both the broader Standard & Poor's 500 index and the tech-heavy Nasdaq Composite ended lower for the week. The S&P closed down 0.7 percent, while the Nasdaq finished off 0.1 percent last week.

We are in the muddle-through period of time, said Donna Van Vlack, director of trading at Brandywine Asset Management. I'm more of the mind-set that the worst has happened this year.
TurtleTrader® comment: Can you define the worst?
Still, the market will certainly be taking cues this week from a Wednesday speech by Federal Reserve Chairman Alan Greenspan and any news that could signal an impending U.S. military strike on Iraq.

Economic data will also be center stage, most notably the October retail sales figures due Thursday, which are expected to rise. A Reuters survey put the month-on-month increase at 0.2 percent, excluding car sales, or flat with autos included.
TurtleTrader® comment: So if retail sales rise you buy what? Or sell what? How much must we buy if retail sales are higher?
Another key figure for the market, the University of Michigan index of consumer confidence, is due on Friday. A Reuters poll put the preliminary November index at 81.3, up from 80.6 for October.

Retail sales will be watched very carefully, said Hugh Johnson, chief investment officer at First Albany. There is a great deal of edginess about consumer spending.

Also offering insight into the spending habits of American consumers will be earnings reports from several retail heavyweights, including No. 1 retailer Wal-Mart Stores Inc. on Wednesday and discounter Target Corp. on Thursday.

Last week, U.S. retailers reported mostly higher October same-store sales, alleviating fears of a disastrous holiday season.

Experts were divided over whether Fed chief Greenspan's testimony before the
TurtleTrader® comment: The experts again.
Congressional Joint Economic Committee, in which he is expected to discuss last week's interest-rate cut, will do much to move stocks as long as corporate profits and economic data remain spotty.

The rate's being cut more than expected is good news … but it doesn't sell any more semiconductors, if you know what I mean, Gretz said.
TurtleTrader® comment: Even if more semiconductors were being sold…how does that help you to know how much to buy or sell of a particular stock?
Greenspan can sit there and tell you things are good but until business sees it or the market perceives it, it doesn't really matter what Greenspan says, he said.
TurtleTrader® comment: Finally some truth! More.
Trend Following Products
Review trend following systems and training: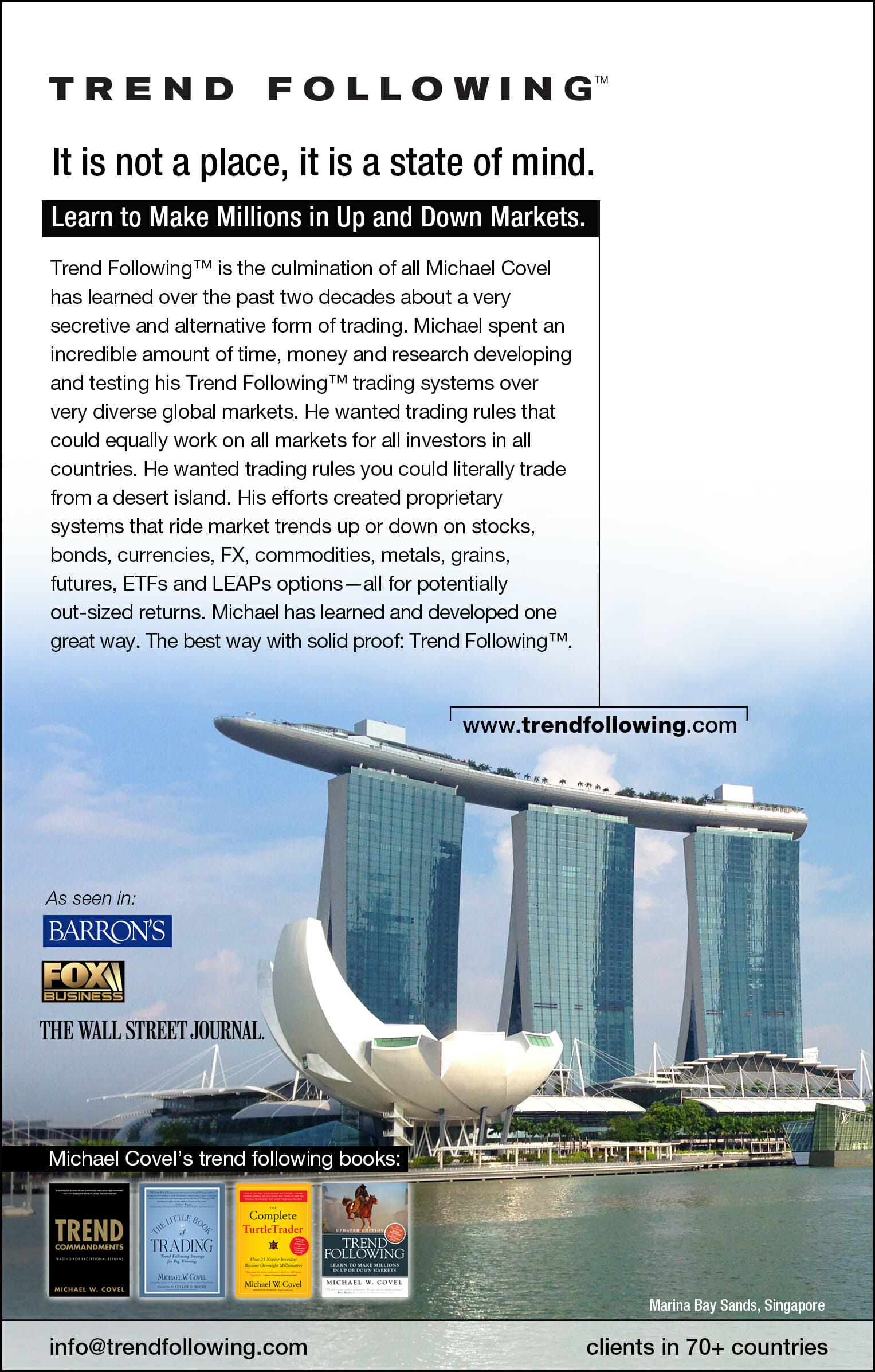 More info here.