---
---
The following Curtis Faith interview ignored Faith's well documented controversies along with the implosion of his money management firm. The questioner allowed Faith's statements to go unchallenged:
CURTIS FAITH statement #1: "I think there's always going to be a limit to what we can analyze and what we can put together in terms of rules and systematic trading methodologies. Even when we have those limits, it is a disadvantage if we don't consider what other things could do with our right brain. Good examples are danger signs, what happens on some occasions when the market just behaves in an unusual manner."
Correction: How does Faith define "unusual manner"? No top trader trades like this.
CURTIS FAITH statement #2: "I know a lot of really good traders who are very systematic who will get out of the market when those sorts of things happen. One could argue that that's going against the system, or one could argue that there are certain types of behavior in the markets that the system doesn't anticipate. I used to be of the mind that you should just follow the system no matter what. But I do think it's reasonable to look at it from a pure risk management perspective and say, at certain times, certain things happen, and you really ought to be more careful. A good example I remember comes from the crash of 1987. Looking back on it, the prudent thing would have been to get out of my positions at that point in time simply because the uncertainty of the markets raised the risks of a huge move one way or the other. And that it was not something that was anticipated by all the testing that we had been doing to develop the system. I say this even though I made money on the day of the crash. At those times, it was almost like all bets are off because of this crazy thing that happens. The same thing happens when you have a situation like 9/11. If anybody could get out of their positions at even, I would still consider that to be a prudent thing. You don't make money off the gaps that happen on those giant, black swan events."
Correction: Good traders have systems in place to deal with the unexpected. No one can predict events in advance. No trend follower predicted October 2008, but they all made money. Faith doesn't understand the basics.
CURTIS FAITH statement #3: "In general, unless you're betting for them like an options trader might be doing, you don't want that kind of random volatility thrown into the mix. So it's wise to be able to get out of the market in those scenarios if you can. And you can't really program that into a system. So that's something that would have to be done on a discretionary basis. Looking back on it, that's something that I hadn't done enough of and I do more now."
Correction: Faith says to get out "if you can". He might as well be guessing. It's the exact type of statement one would expect to hear from a person whose money management firm ended in a permanent CFTC ban.
Trend Following Products
Review trend following systems and training: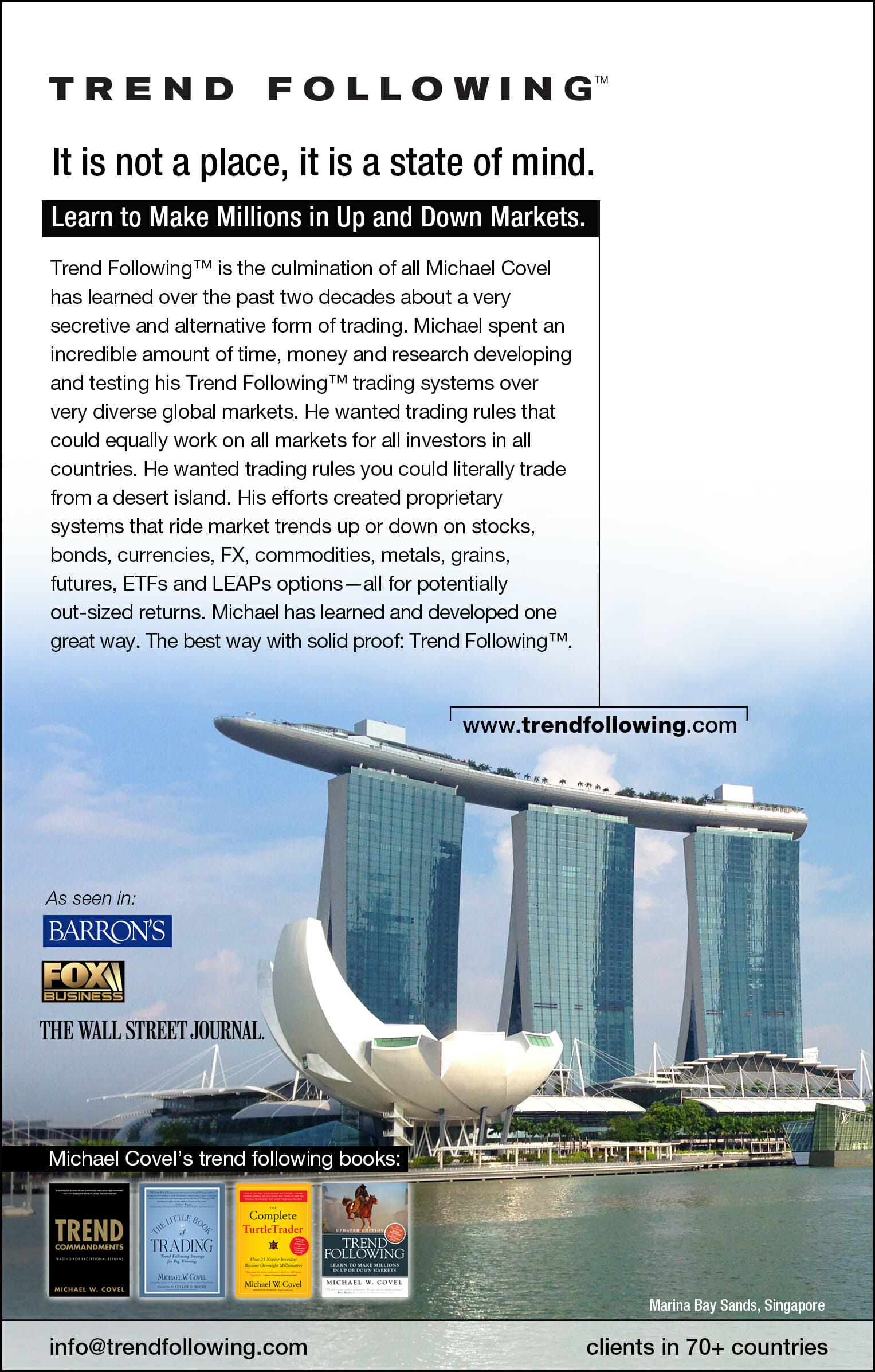 More info here.