"The old bromide 'the trend is your friend' may be the most widely used and repeated cliche heard in the trading business. Yet, there is a certain wisdom in its simplicity that should not be overlooked. After all, many if not all traders have lost money on trades because they ignored the obvious in favor of a more complicated analysis of market directions."
John W. Henry
John W. Henry recently wrote, "Trend following presupposes change. It is based on change. In an uncertain world, perhaps the investment philosophy that makes the most sense, intellectually and actually is trend following." The worst thing a trader can do is trade a system based on the last year of market activity. The next year could be very different. A trading strategy must be rooted in adaptability to take advantage of changing conditions. Trend following grips the market with a loose mitten, not a tight glove. Market changes are not a surprise.
Basic Trading Rules
Learn before you leap …
Cut losses, let gains run …
Discipline is crucial …
Focus on the process …
Know your exit …
Manage your money …
The trend is your friend …
Don't trade emotions …
Consider who loses (zero-sum) …
Remain humble …
"Violating [rules] is how people remain amateurs instead of professionals. They remain losers instead of winners. The typical novice hardly ever survives the relatively short brutal test of the market because he violates one or more of these rules and it finally gets him."
David Druz
"If you have a trading system or a trading plan and then override it or don't follow it, then you don't have a trading system or a trading plan."
Bill Dunn
"I'll hold stuff forever if I keep being right, and most amateurs are afraid to hold winners because they're afraid it's going to evaporate."
Dennis Weinmann
"When you start concentrating on the profits and the losses, you tend to get high emotionally when you're making money and low, frustrated or panicked when you're losing money. That emotional high and low is not a good way to go. You really want to stay fairly steady as a trader and just keep concentrating on the process."
Tom Basso
"If your playing any other games other than where there's the possibility for gaining an edge, such as blackjack, then gambling has no analogy to trading. The gamblers I know would have a huge aversion to playing a game of chance like roulette, a serious trader has the same aversion. Gamblers operate under risk control systems. They don't bet big because they want to make more money or feel lucky; they'll bet big because probabilities are there."
Jack Schwager
"While conceding tactily or explicitly that over the long run daily price movements are serially interdependent (move randomly) technical analysts focus on recurring short term patterns and trends. They are like surfboard riders, who study the movements of the waves, not in order to understand why they behave as they do, but simply in order to be on hand whenever they surge, to catch them at their crest, or as soon thereafter as possible to ride them as far as they possible can, and to disassemble before they change direction."
Morton Baratz
Trend Following Products
Review trend following systems and training: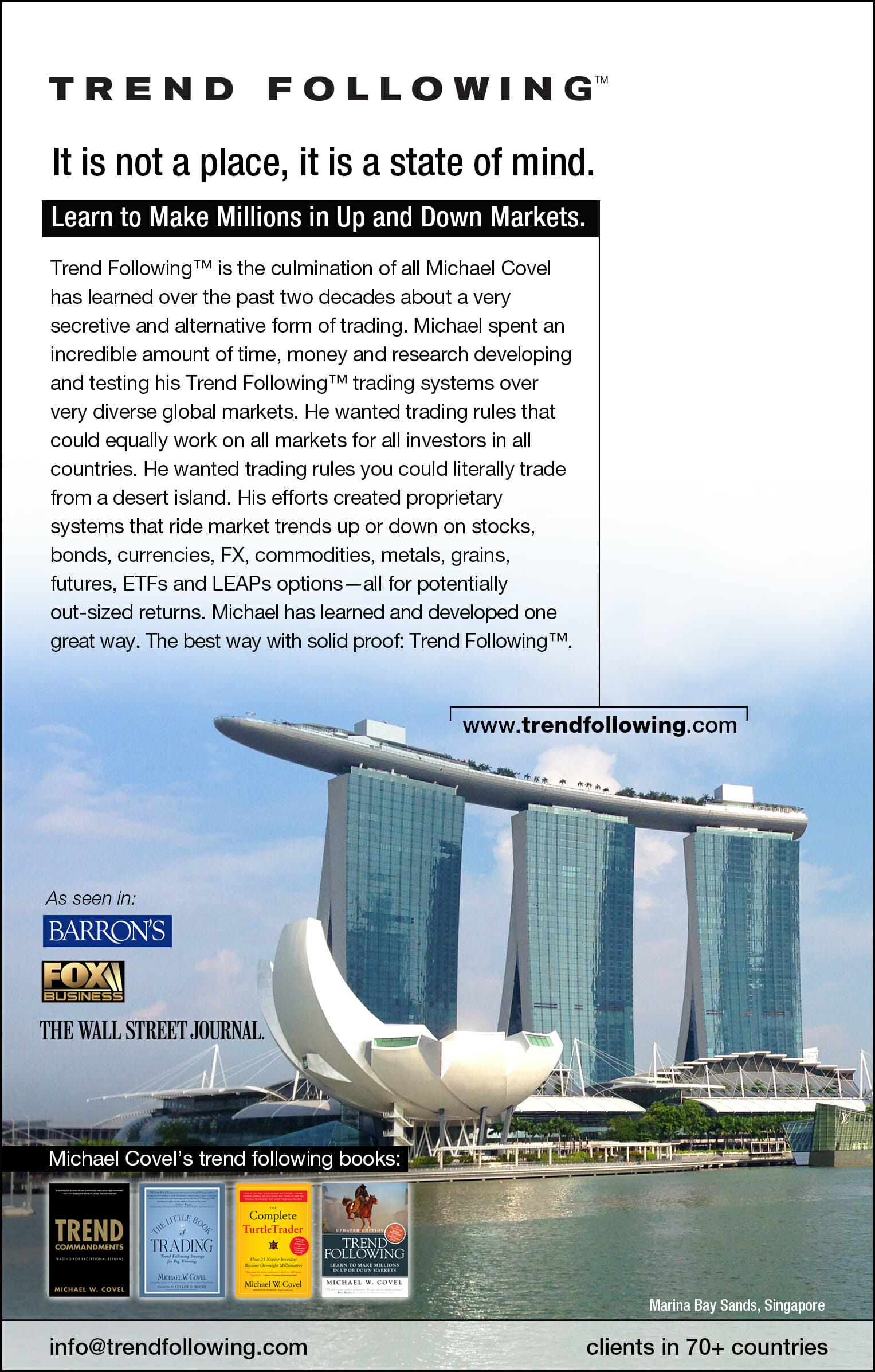 More info here.